Dismountable fume hoods, safety hoods from acrylic glass
for HPLC-Systems, Photometer, Balances and other laboratory devices.
The hoods will be manufactured according to individual customer wishes.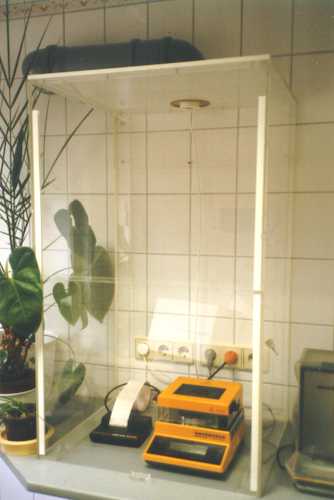 The acrylic glass hoods can be adjusted to different circumstances. It is possible to connect the hoods at central house suck off channels over the waste air connecting piece at the respective side. Also smell filters can be installed. Alternatively the hoods will be equipped with an turning or swiveling flap. Further also lamps and sockets are mountable.
Price example:
Acrylic glass hood
At the front with adjustable 600 mm heigth sliding flap. On the top with white PVC-cover board.
dimensions (WxDxH):
air connecting piece ø:
assembly time:
assembly tool:
warranty:
delivery time:
net price excl. Value-added tax (16%):
800x600x1000 mm
100 mm
approx 15 minutes
screwdriver
2 years
4 weeks
705,59 EUR incl. Shipment (within germany)